Expert AC Replacement Services Near The Woodlands, Texas
Is it time for a new air conditioning unit? If your older AC system is unreliable, or just doesn't seem to cool as well as it used to, then it may be time for an air conditioning replacement from The Comfort King. We provide top quality AC installation services at affordable prices for customers in The Woodlands, TX area.
We schedule AC replacements daily 8 a.m. – 6 p.m., and Sunday by appointment for the convenience of our residential and commercial customers. We are Trane Comfort Specialists, and our experienced technicians will also recommend and install other major brands to meet your needs.
How do you know when it's time for an air conditioning unit replacement? To avoid waiting until your older system shuts down completely, here are some signs that you need to have a new AC unit installed:
Age: Your existing air conditioning unit is 10-15 years old.

Cost to Repair: Your existing AC unit is no longer under warranty, and the repairs have become increasingly frequent and expensive.

Cost to Operate: Your monthly energy bills are high due to an inefficient, older unit.

Not Cooling: Your older air conditioning system is unable to keep your home at a cool, comfortable temperature.
To schedule an appointment for your heating and air conditioning service in The Woodlands, TX area, call (281) 326-9399, or contact us online.
Contact Us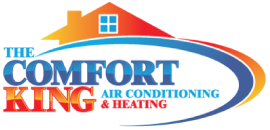 Why choose The Comfort King for your air conditioning unit replacement?
Top brands, quality work and fair prices.

Our experienced technicians are experts on all leading AC brands, makes and models.

Despite our success and growth, we are still a family owned and operated company who knows and cares about all of our customers.

Our name says it all – we put your comfort first!