The Comfort King – Providing Exceptional AC Services Near The Woodlands, TX

At The Comfort King AC & Heating, we offer the air conditioning services that you need to keep your home or business cool and comfortable. Whether you need a small repair done quickly, or a completely new AC system installed, our goal is exceptional service at upfront, affordable prices. We have been providing reliable service to The Woodlands, TX and surrounding areas. Our services include:
We are available daily 8 a.m. – 6 p.m., and Sunday by appointment to provide you with cooling services at your convenience. We also offer a quick response time when you need 24/7 emergency AC service.
To schedule an appointment for your heating and air conditioning service in The Woodlands, TX area, call (281) 326-9399, or contact us online.
Contact Us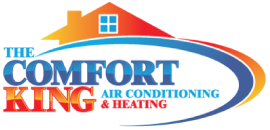 Why choose The Comfort King for your emergency HVAC service?
We are a Trane Comfort Specialist.

Our experienced technicians are experts on all leading AC brands, makes and models.

Despite The Comfort King's success and growth, we are still a family owned and operated company who knows and cares about all of our customers.

Our name says it all – we put your comfort first!