Professional Heating Repair Services Near The Woodlands, TX

When your heating system isn't working properly, you need it repaired right away. The Comfort King is The Woodlands, TX area's heating repair expert. Our experienced technicians arrive promptly, diagnose the problem, and repair your heating system so that you can get back to enjoying your warm, comfortable home.
What are the warning signs that you need to schedule a heating repair?
Your heating system won't start.

The thermostat is not functioning reliably.

Your system is not providing adequate heat.

Your indoor air seems polluted or has an odor.

You see cracks or leaks in your heating equipment.
When you need a heating repair, The Comfort King has technicians available daily 8 a.m. – 6 p.m., and Sunday by appointment for your scheduling convenience. We also offer a quick response time when you need 24/7 emergency heating repair service.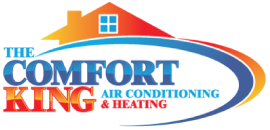 Why choose The Comfort King for your heating repairs?
We offer quality repair services at affordable, upfront prices.

Our capable technicians quickly diagnose problems and offer effective solutions.

Despite our success and growth, The Comfort King is still a family owned and operated company who knows and cares about all of our customers.

Our name says it all – we put your comfort first!