Repairs on Air Conditioning and Heating systems
The Comfort King can repair all makes and models of commercial HVAC systems for air conditioning and heating. Our expertly trained team can service, repair and install both gas and electric units. We can get your business cooling and heating fast!
Air Conditioning and Heating Commercial HVAC systems Installations
We install air conditioning and heating systems on commercial properties. If you need a new air conditioner or furnace we can save you money today.
Quarterly Service Maintenance Contracts
We offer a quarterly maintenance contract for commercial properties to keep your systems running at peak performance. Good maintenance can add years to the life of an air conditioning and heating system and can save you money from costly repairs due to neglect. We offer very competitive rates. Prices vary depending on the total number of air conditioning and heating units.
Your heating system won't start.

The thermostat is not functioning reliably.

Your system is not providing adequate heat.

Your indoor air seems polluted or has an odor.

You see cracks or leaks in your heating equipment.
When you need a heating repair, The Comfort King has technicians available daily 8 a.m. – 6 p.m., and Sunday by appointment for your scheduling convenience. We also offer a quick response time when you need 24/7 emergency heating repair service.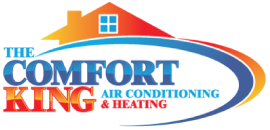 Why choose The Comfort King for your heating repairs?
We offer quality repair services at affordable, upfront prices.

Our capable technicians quickly diagnose problems and offer effective solutions.

Despite our success and growth, The Comfort King is still a family owned and operated company who knows and cares about all of our customers.

Our name says it all – we put your comfort first!