Gas Furnace Repair, Replacement & Maintenance Near The Woodlands, TX

The Comfort King AC & Heating has been providing gas furnace services to our customers in The Woodlands, TX and surrounding areas for over 22 years. We are a full service heating and cooling company, offering installation, repairs, and scheduled maintenance for your gas furnace.
How Does a Gas Furnace Work?
A gas furnace can be an excellent, energy efficient way to heat your home. Gas furnaces create heat by burning fuel. As the fuel burns it creates hot gases that go into the heat exchanger. As air passes over the heat exchanger, it absorbs the heat from the hot metal surface. The heated air is then pushed through your ducts to warm your home. The gases, or combustible air, that are generated during this process are released outside through a vent pipe in your home.
The Importance of a Gas Furnace Inspection
It is very important to have your gas furnace inspected every year BEFORE using it. The normal wear and tear from use can cause cracks or holes. Operating a damaged furnace can release an odorless gas called carbon monoxide into your home, which can be deadly. Because it is virtually impossible to know if a furnace is leaking until it's too late, it is best to have your furnace inspected every year by a professional.
For more information about gas furnaces or to schedule maintenance or repairs, call (281) 326-9399 or schedule an appointment online.
Contact Us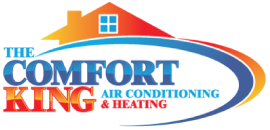 Why choose The Comfort King for your gas furnace service?
We offer high quality products, expert service, and affordable prices.

Despite our success and growth, The Comfort King is still a family owned and operated company who knows and cares about all of our customers.

Our name says it all – we put your comfort first!