We Provide The Following Services
If your air conditioning or heating unit can no longer be repaired to operate safely then it needs to be replaced. We provide you with a Free Estimate whether you need one piece of equipment or a complete system , and the information you need to get it done as quickly as possible. All new units come with a factory warranty and we include a labor warranty. A new energy efficient unit with the newest safety features can help you rest easier knowing you made the right decision for your family and your wallet.
We will inspect your unit, diagnose the problem, and explain to you exactly what needs to be repaired to get it functioning properly. All repairs will be in writing with Upfront Pricing and comes with a written warranty. We service All Makes and Models.
Have you added an addition to your home and now need your unit moved? We can move it and reinstall it for you.
Duct Inspections, Replacements, and Installations
If you need a new duct installation or an existing home duct replacement, we can do it. Over time ducts can wear out causing air leaks and loss of efficiency in your unit. They can also grow mold or mildew, which is harmful to you and your family to breathe. When this happens the ducts need to be replaced with new ones. We offer Free Estimates on Complete Home Duct Replacements.
If you need a new thermostat installed or would like to upgrade your existing thermostat to one of the newest Hi-Tech thermostats, give us a call. The Comfort King will get the job done right for you.
Using your air conditioning and heating system all year can cause a lot of wear and tear on a unit. That's why it's recommended to have your systems checked out every year. We inspect your unit from top to bottom so that you know your system is safe and functioning properly. Your cooling system should be checked in the Spring before the hot weather arrives.  And your heating should be checked in the Fall before the cold weather starts. We have a yearly Service Plan Agreement for Tune Ups to help save you money.
We know everyone wants to provide the best they can for their family and that includes clean air to breathe. Air inside the home can be even more polluted than the air outside. We can install air filtration systems to help keep the dirty air outside your home and keep cleaner air inside. Cleaner air can make a world of difference to allergy sufferers and those with breathing problems by reducing the allergens in the air.
Give The Comfort King Air Conditioning and Heating a Call (281) 326-9399 We will work hard for you. We Guarantee It.
Contact Us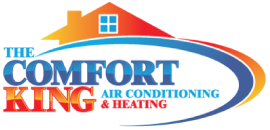 Why choose The Comfort King for your heating repairs?
We offer quality repair services at affordable, upfront prices.

Our capable technicians quickly diagnose problems and offer effective solutions.

Despite our success and growth, The Comfort King is still a family owned and operated company who knows and cares about all of our customers.

Our name says it all – we put your comfort first!