I had an air conditioning company come out due to a no heat issue. One of the bigger more well known ones. I see their commercials all the time so I thought I called " The Best" WRONG !! I was told I needed a new furnace and given prices. I got a second opinion with The Comfort King and boy am I one HAPPY customer !! Mike came out and found our problem and fixed it within minutes !! My furnace was fine it ended up being a bad wire !! Be careful with those companies you see on tv all the time. They'll try to sell you anything to pay for those commercials !! I tell ALL my family and friends about this company. I am so thankful that there are honest companies like this left !! Customer for life here !! Thanks so much Mike !!
~ Sarah Goodman
Our air conditioner went out and we called out Michael to fix it. He came out an gave us a bid on replacing the AC condensor and we decided to go with a more efficient unit. We shopped around Spring and The Woodlands for the best price and his was the lowest. He was out the next day with a helper and the job was done before we knew it. GREAT JOB!
~ Stacy Davis
I wish we had found Mike a few years ago. Fast service and reasonable prices. I highly recommend!
~ Ken Faulkenberry
Mike and his team were great to work with! We had a consultation to see why our ac wasn't cooling the house. We took our time and asked a lot of questions which Mike was always efficient in giving us an honest answer. In the end we went with a new unit and after we made that choice Mike was out with a team and had the old unit out and new one in very smoothly. He was great to work with and I will always look to him in the future. I give him 2 thumbs up and 5 stars.
~ Jackie W
I purchased a complete system. The price quote gave me options and was by far the lowest of several companies. Fast, friendly service. I will recommend to friends and neighbors.
~ Mike Jenkins
Was able to come out same day and fix my problem at a very reasonable price. Thank you Mike and everybody at The Comfort King for your tremendous service.
~ Stephanie Campbell
To schedule an appointment for your heating and air conditioning service in The Woodlands, TX area, call (281) 326-9399, or contact us online.
Contact Us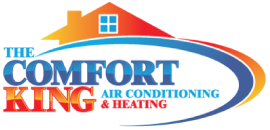 Why choose The Comfort King for your heating and air conditioning services?
We The Woodlands, TX area's Trane Comfort Specialist.

Our experienced technicians are experts on all leading brands, makes and models.

Despite our success and growth, we are still a family owned and operated company who knows and cares about all of our customers.

Our name says it all – we put your comfort first!