Reliable Furnace Maintenance Near The Woodlands, TX
Your heating system is one of the largest investments in your home. If you want it to continue to work well for as long as possible, then schedule periodic furnace maintenance with The Comfort King AC & Heating. Our technicians are heating system experts, and provide maintenance on all brands, makes and models for our customers in and near The Woodlands, TX. Our furnace maintenance includes a thorough inspection of all parts of your system, and our technicians will make recommendations to help you keep your system in top operating condition throughout the cold seasons.
There are many benefits of scheduling regular furnace maintenance:
Lower repair costs – Scheduled maintenance allows our technicians to diagnose minor problems before they turn into expensive repair issues.

Lower energy bills – A well maintained furnace runs more efficiently, keeping your energy bills low.

Prolonging the life of your Furnace – Regular maintenance will help your system last longer.

Avoiding Breakdowns – Maintenance will help you avoid emergency situations, and keep your furnace working reliably.
To schedule an appointment for heating system maintenance in The Woodlands, TX or surrounding areas, call (281) 326-9399, or contact us online.
Contact Us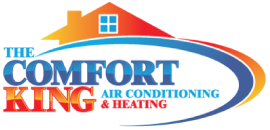 Why choose The Comfort King for your furnace maintenance?
We are available daily 8 a.m. – 6 p.m., and Sunday by appointment to schedule your heating system maintenance at your convenience.

We are a Trane Comfort Specialist, and our technicians have experience maintaining all major heating system brands, makes and models.

Despite The Comfort King's success and growth, we are still a family owned and operated company who knows and cares about all of our customers.

Our name says it all – we put your comfort first!