Air Filtration Products & Services Near The Woodlands, TX

Looking for quality air filtration products and services at affordable prices? The Comfort King AC & Heating offers both to our customers in The Woodlands, TX and surrounding areas. We are the area's choice for furnace filters, and all your air filtration needs.
Air filtration is measured in Minimum Efficiency Reporting Value, or MERV ratings. The values range from 1-16, with the higher MERV rating representing a greater filtration level. Here's what you can expect from the different MERV rating categories:
STANDARD AIR FILTER (MERV rating 1 – 12)

Standard air filters are used in your air return grill. The starting level of air filtration is a standard air filter. Basic, disposable air filters are going to be the cheapest in price and the lowest in MERV ratings, and should be changed about once a month.
MEDIA FILTER (MERV rating 7 – 14)

A media filter is installed in the attic. Although it's considered a disposable filter, it's anything but standard. Media filters can eliminate the need for a filter at the air return grill. They last on average of 6 months to a year before needing to be changed.
ELECTRONIC AIR CLEANER (MERV rating 12 – 14)

An electronic air cleaner, or EAC, is like a bug zapper with an electronic charge that zaps particles as they pass through the charged area. EACs use little energy and have washable, reusable air filters. These filters should be cleaned on average two times per year.
ACCUCLEAN (MERV rating 16)

An Accuclean system provides some of the best indoor air filtration on the market. It is an ionizing unit that filters the air by removing up to 99.98% of indoor pollutants including germs, fungi, bacteria, and allergens.  Accuclean has an LED screen that notifies you when it's time to clean the filter.
For more information on furnace filters or other air filtration products for your home or business in The Woodlands TX area, call (281) 326-9399, or contact us online.
Contact Us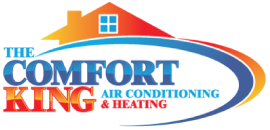 Why choose The Comfort King for your air filtration products?
When it comes to air filtration, we combine quality products with reliable service and affordable prices.

Despite our success and growth, The Comfort King is still a family owned and operated company who knows and cares about all of our customers.

Our name says it all – we put your comfort first!