Air conditioning & heating systems need to be maintained yearly. This helps the system to function properly and it increases the longevity of a system. A system that is not properly serviced, cleaned, and have regular filter changes will struggle to function and break down prematurely. Resulting in costly repairs, or in needing a whole new system that could cost thousands. It's much cheaper to maintain a unit, than it is to neglect one in the long run.
Any piece of equipment that is used constantly WILL break down. It's normal wear and tear, and bound to happen to us all eventually. It's not a matter of " IF " but " WHEN " it's going to happen. That's why we've taken an Unavoidable Expense, and made it more Affordable for our Plan Members.
If your system breaks down during the year, you'll get Priority Service as a Plan Member And a Discount to get it repaired asap. With a Service  Plan you pay once for a year's Membership, and get Service and Security that lasts All Year Long. It's a Service Plan that pays for itself. And we've made it as easy as ever to keep your system running efficiently. Start Protecting Your System And Your Wallet Today.
SERVICE PLANS INCLUDE:
One Yearly Complete Air Conditioning Maintenance Tune – Up

One Yearly Complete Heating Tune – Up

Priority Service On Repairs Or Replacements

No Service Charge For A Year On Repairs Or Replacements

Appointments Conveniently Scheduled To Meet Your Needs

5 % Discount On All Replacements

15 % Discount On All Repairs
Help Keep Your Air Conditioning & Heating System Functioning Properly Between Tune – Up's With These Maintenance Tips.
Outside Unit:
Keep your unit clean from debris
Do not allow animals to urinate on your unit to help prevent corrosion
Spray off unit coils every few months to keep it from getting clogged with dirt and debris
Inside Unit:
Change standard air filters monthly
Keep air return grill clean to keep air flow open
Keep temperature setting higher when not home during summer and lower during winter
If you need emergency service for your HVAC system, call 281-326-9399 anytime, day or night.
Contact Us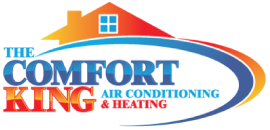 Why choose The Comfort King for your emergency HVAC service?
Fast response time!

We are a Trane Comfort Specialist, and our technicians have experience with all leading heating system brands, makes and models.

Despite The Comfort King's success and growth, we are still a family owned and operated company who knows and cares about all of our customers.

Our name says it all – we put your comfort first! No matter when you need us!