Our Thorough Tune Up Process Keeps Your Heating & Cooling Systems in Top Shape

A thorough, quality hvac tune up is the best way to prolong the life of your heating and cooling systems to ensure they're efficiently operating all year long. In The Woodland, TX and surrounding areas, trust The Comfort King's 21 point ac tune up and 19 point furnace tune up.
Monitor Compressor for voltage, amperage draw and wiring connections

Monitor Blower motor for voltage, amperage, balance and dust

Record temperature difference between supply and return (Delta T)

Inspect service valves for freon leaks

Water wash condenser coil and remove debris ($99.00 value)

Inspect condenser blades for cracks and balance

Test Capacitors for proper MFD

Inspect all electrical connections for exposed wiring

Test/Inspect Contractor for burned and pitted contacts

Tighten all electrical connections

Inspect Disconnect for proper rating and Installation

Inspect safety devices for proper operation

Record refrigerant pressures

Clean Condenser Coil for Efficiency

Inspect Condensate drain. Main/Emergency

Inspect indoor Evaporator coil if accessible

Inspect all motor bearings for wear and Lubricate if applicable

Monitor volts/amps on Condenser fan motor

Inspect filtration systems

Visual duct inspection for mold and mildew ($39.00 value)

Inspect Thermostat for accuracy and efficiency
Clean and check gas burners

Clean and check pilot and pilot tube

Check flame baffle or ribbons

Check gas input

Check fan control

Inspect gas valve

Check pilot safety/thermocouple/spark ignition

Inspect combustion chamber

Check temperature rise

Check blower motor

Lubricate blower and bearings

Check wiring assembly

Check air filtration

Check flue and venting

Check limit control

Check heat anticipator

Check thermostat

Test for carbon monoxide

Inspect duct
Call The Comfort King at 281-326-9399 to schedule your heating tune-up and cooling tune-up!
Contact Us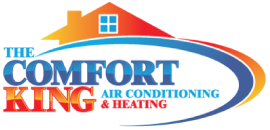 Why choose The Comfort King for your emergency HVAC service?
Fast response time!

We are a Trane Comfort Specialist, and our technicians have experience with all leading heating system brands, makes and models.

Despite The Comfort King's success and growth, we are still a family owned and operated company who knows and cares about all of our customers.

Our name says it all – we put your comfort first! No matter when you need us!